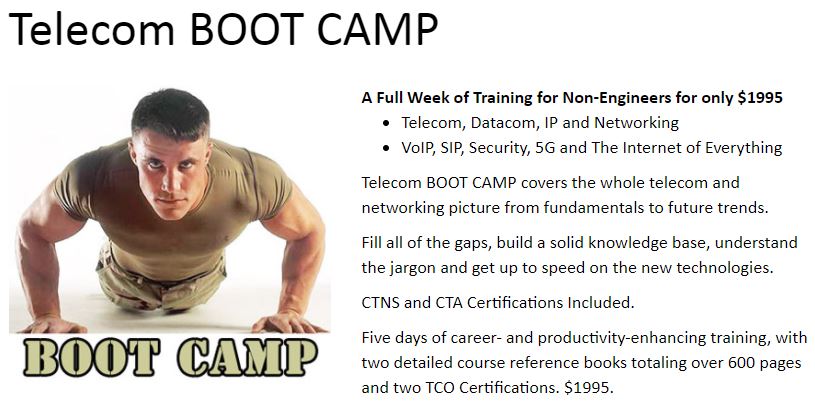 April 8-12 Denver, CO
May 6-10 Washington, DC
Aug 5-9 Chicago, IL
Live, in-person training, in a seminar where you can ask questions and interact is the best you can get.
Discuss and understand the latest technology and industry news in-class. At lunch, you can discuss your situation with class members, and find out what others are implementing.  Attendees often network and go to dinner together.
Being in a classroom, with an expert instructor, also ensures that you will stay focused, and learn. If you are often distracted at your desk, will you learn much with screen-based training?  Would you learn more out of the office?
Fill in all of the gaps, understand the jargon and buzzwords, build a solid knowledge base, and understand the new technologies with telecom BOOT CAMP.  TCO CTA and CTNS Certifications included.

Specifically designed for non-engineers, Teracom's renowned telecommunications training seminars are organized into the five‑day telecom BOOT CAMP, covering the full range of knowledge needed in the telecom business… in plain English.
You may register for just the first three days listed as
Course 101: Telecom, Datacom and Networking for Non-Engineers, $1395
or just the last two days, listed as
Course 130: Voice over IP, SIP, Security, 5G and IoT, $995
as best meets your needs. But with the BOOT CAMP price savings, wall-to-wall training and CTA and CTNS Certifications, BOOT CAMP is a great opportunity.
You will bust the buzzwords, understand the jargon and technologies, and most importantly, the underlying ideas… and how it all fits together.  Knowledge you can't get on the job, talking to salespeople or reading articles.  Your knowledge skills, accuracy, productivity and buzzword-frustration level will all be improved with this career-enhancing training.
Telecom BOOT CAMP begins with our famous three-day core training: the PSTN, wireless telecom, data communications, the Cloud, Ethernet and LANs, IP and networking, MPLS, and the Internet as a business.
On Thursday and Friday, we build on this solid foundation with Voice over IP, SIP, SIP Trunking, Security, 5G and IoT, and finish with upcoming technologies: how everything from toasters to self‑driving trucks to human brain implants will be online.
BOOT CAMP is also the preparation course for the prestigious TCO Certified Telecommunications Analyst (CTA) certification.  The CTA Exam with unlimited repeats is included with the tuition fee.  CTNS Online Certification Courses and Exam is also included.
"Excellent across the board"
Helped tie up loose ends; have been working in telecom for the past 4 years with no real training or background.  The instructor was very knowledgeable and enthusiastic about the subject matter, and made the information exciting.
– John Cody, Commercial Communications Manager, US Air Force
Thousands of people have attended Teracom seminars and rated them "excellent".
Join us!     Register for one of these seminars today:
March 25-29 Toronto, ON
April 8-12 Denver, CO
May 6-10 Washington, DC
August 5-9 Chicago, IL
If you have seven or more people, it is cost-effective to bring us to you:
hold a private "onsite" course for your team.
Get everyone up to the same speed, with a common vocabulary and reference book.  No travel costs!

more info