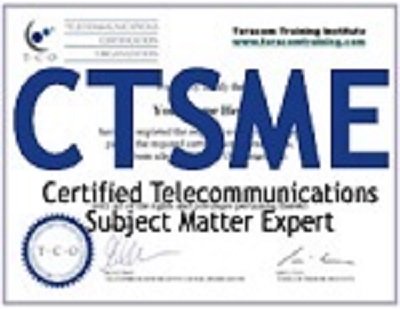 The most comprehensive telecommunications training and certification available. Details
CTSME includes five internationally-recognized telecommunications and network certifications, a total of twenty-five high quality online courses covering all major topics in telecom, datacom, networking, IP, VoIP, SIP and wireless, TCO Subject Matter Expert certification, with unlimited repeats and no time limits, for one low price.
Until June 30th, CTSME Unlimited plan $1295 instead of $1495
CTSME includes CTA, CWA, CVA, and CTNS certifications. It comes with a hand signed CTSME certificate plus a personal Letter of Introduction from the Director of the Institute explaining the very extensive knowledge you have, and inviting the reader to contact Teracom as a reference.
Work at your own pace. There are no time limits. The courses and exams are unlimited.
We are so confident of the quality of the training, it comes with a 30 day, 100% money back guarantee, no questions asked.
Register Now – This knowledge and preparation makes you and ideal candidate to hire or promote, as you will be able to get up to speed for a current project, and be able to work efficiently on subsequent projects…a desirable thought to have in your employer's mind. MORE INFO