This discussion is covered in Course 101, Chapter 16 "Understanding the Internet",
and in more depth in Course 110, Chapter 16 "IP as a Business: Carrier Networks, Competition and Interconnect"
Originally, the only way to get on to the Internet was from a terminal connected to a computer at a university or research institute. The Internet was mostly circuits paid for by the taxpayers via the National Science Foundation. Today, commercial Internet access providers, called Internet Service Providers (ISPs) provide the capability for anyone to access and communicate over on the Internet. These ISPs are for the most part business units of facilities-based carriers, i.e. telephone companies and cable companies.
Such service providers have physical access circuits and circuit-terminating equipment on the customer side, plus routers, security and access control equipment to manage customer traffic. This is often organized with data centers in cities or regions, which are interconnected. This ensemble of interconnected routers controlled by an ISP is called an Autonomous System (AS).
The Internet is a vast, unregulated collection of interconnected Autonomous Systems. The connections between ASs are not specified by a central authority or world government, but are implemented on a case-by-case basis by the operators of an AS for business reasons. The Internet is not free. It is not a public utility. It is a business.
ISPs operating ASs will connect to competitors and content providers like Google to exchange traffic terminating on each other's network (called peering), and will connect to larger organizations who will assure delivery of packets to other destinations (transit). The networks are physically connected at Internet Exchange (IX) centers such as Equinix Chicago at 350 E Cermak. These are buildings with equipment implementing network interconnection operated by a neutral third party. The ASs are responsible for paying for connectivity to the IX.
Course 101, page 16.09: Internet Service Providers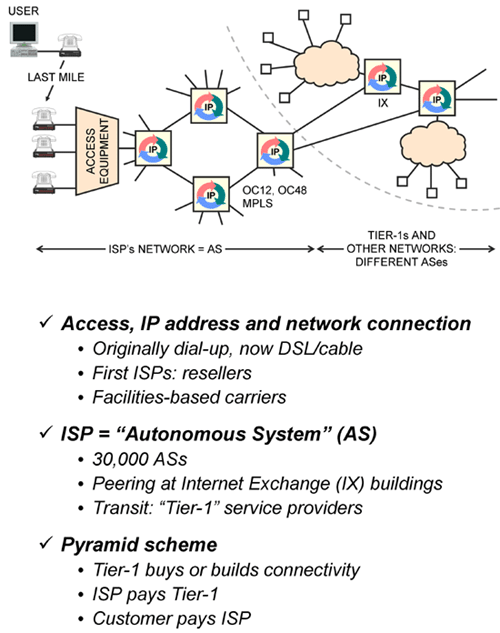 Peering is settlement-free, i.e. no money is exchanged. Transit is a commercial service that costs money. Larger ISPs charge smaller ISPs for transit services. The largest networks are sometimes called Tier-1 service providers… but "Tier-1" is not an officially defined term. Some claim that it means a network "close to the center of the Internet" or a network that does not pay for transit. However, there is no "center" to the Internet, and virtually all networks employ a mix of peering and transit agreements to connect to other networks… and the nature of such connections is non-disclosed confidential business information. A "Tier-1 network" might best be thought of as one operated by a very big facilities-based carrier that has presence in most or all IXs and sells transit services to smaller networks and ISPs.
The ISPs build the access network and peering or transit connections to other networks, then charge the users for access. It's a pyramid scheme. The end users end up paying for all.
In addition to access services, the ISP usually provides a Web server to host your website, a Domain Name Server, and an e-mail server.
Back in the Flintstones era when dial-up Internet access was first available, telcos were a bit slow to react, so for a while, companies like Netcom, MindSpring, Portal, Pipeline, iStar and others had their day in the sun. These organizations were resellers, leasing circuits from a carrier and reselling them to users under per-minute or per-month billing plans.
The carriers eventually began competing with resellers, who for the most part went out of business, selling their customers to the carriers. For example, Netcom is now part of Earthlink, which is majority owned by Sprint. AOL and MSN are the biggest remaining reseller-type ISPs. For the most part, it is business units of the companies that own the cables coming into your home: the LEC and the cable TV company that are the dominant ISPs today.
If you do choose to use a reseller-type ISP, particularly for a business or organization, questions regarding customer service, capacity and availability should be asked. Another is redundancy – do they have a single point of failure? Do they have multiple connections to different Tier-1 providers? What capacity are those connections?
This discussion is covered in Course 101, Chapter 16 "Understanding the Internet",
and in more depth in Course 110, Chapter 16 "IP as a Business: Carrier Networks, Competition and Interconnect"