Teracom Training course 133 – a new course on all there is to know about VoIP.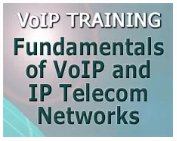 Comprehensive three-day course for non-engineers getting you up to speed on Voice over IP and the network it runs on.  Understand the jargon and technologies, and most importantly, the underlying ideas.  CVA  certification included.
The best you can get!  Get out of the office and away from distractions to learn and retain more with live, in-person instructor-led training in classroom environment with this three-day course.
Includes career- and productivity-enhancing training, 300-page printed course book with detailed notes, TCO Certified VoIP Analyst (CVA) Certification Package Unlimited Plan online courses and exam.  $1495.