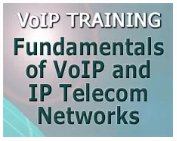 Be one of the first to register for Teracom's Fundamentals of VoIP & IP Telecom Networks!
We are offering a 20% discount to anyone who registers early and uses our web exclusive coupon code:1291
Visit our website and register at one of our many Course 133 seminar locations! California, New Orleans, Chicago, Washington, Atlanta…do it now before the early bird spots are all taken!