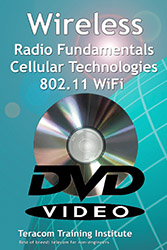 We're very pleased to announce the release of our latest DVD-Video Course DVD6 Wireless: totally new, over 3 hours long with 28 lessons and a 74-page course book and certificate.
You will gain a real understanding of how digital radio communications works, how a cellular network operates, the cellular technologies and generations, plus WiFi, Bluetooth, satellite and much more.
Take advantage of the launch specials to get this career- and productivity-enhancing knowledge upgrade today: https://www.teracomtraining.com/specials.htm#dvd6
DVD6: Wireless introduction and highlights
Free lesson 2.03 Mobile Network Components and Operation
Teracom DVD-Video Course DVD6: Wireless
ISBN 9781894887083 Length 185 minutes. 74-page course book.
Radio Fundamentals • Spectrum • Digital Radio • Mobile Network Components and Operation • Cellular Principles • Digital Voice • Data • Mobile Internet • Cellular Technologies • TDMA • CDMA • OFDM • Generations • 2G GSM • 3G 1X • UMTS • HSPA • 4G LTE • Fixed Wireless • Bluetooth • WiFi • WiFi Security • Encryption • WiMAX • Point-to-Point Microwave • Satellite