Get fully up to speed on Voice over IP and SIP technologies and implementations –and TCO CVA Certification to prove it!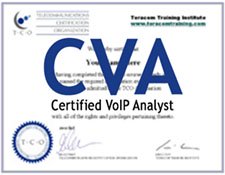 CVA covers all aspects of Voice over IP, including all the different ways VoIP is implemented, how calls are set up with softswitches and SIP, how voice is packetized and the factors affecting sound quality, connecting to carriers and SIP trunking, and network quality with MPLS, Service Level Agreements and Class of Service.
The Certified VoIP Analyst Certification Package includes six online courses:
2221 Fundamentals of Voice over IP
2222 VoIP Architectures and Implementation Choices
2223 Softswitches, SIP, Call Setup and SIP Trunking
2224 Voice Packetization, Codecs and Voice Quality
2225 SIP Trunking and Carrier Connections
2226 IP Network Quality: CoS, QoS, MPLS AND SLAs
This knowledge enables a CVA to stand out from the rest, with demonstrated broad and deep vendor-agnostic knowledge of VoIP systems and best practices.
This kind of knowledge enables higher-paying positions performing analysis, writing reports, making recommendations and providing effective, value-added contributions in project management, business and product development, software design, sales, marketing and finance.
The CVA Certification Package includes six courses totaling 59 lessons, plus the TCO CVA Certification Exam, TCO Certificate suitable for framing and Personalized Letter of Reference.
You get unlimited repeats of courses and exams, no time limits.
Guaranteed to pass, refresh your knowledge anytime.
30-day 100% money-back guarantee.
You have nothing to lose – and a valuable certification to gain!
These courses build on IP and PSTN fundamentals. If you are completely new to telecom, we recommend you take the CTNS courses first to build a knowledge base, then the CVA courses.
Purchase courses in this set of six in the CVA Certification Package, or individual courses as best meets your needs.
The Certified Telecommunications Subject Matter Expert CTSME Certification Package
includes all of these courses at a substantial discount… plus 5 TCO certification exams, all with unlimited repeats.
Check out the CTNS + CVA combo package discount special!
Upgrade your skills – and your résumé – with this training and certification today!